Happy 4th Birthday, uPackingList (Promo Codes Giveaway!)
18 July 2013
uPackingList Travel App celebrates its 4th birthday. See the way it has passed to get into TOP 5 of Free Travel Lists on AppStore.
It's been whole 4 years since uPackingList first came out. The app has gone through many changes but it's become just better: with new features and a friendlier interface. Let's celebrate its birthday by going over its history.
First Steps of The Travel App
Developers from NIX Solutions are busy people who travel a lot. In other words, business trips are a significant part of their lives, they tried to find an app that would help packing saving more time for work and life. But the search wasn't crowned with success–either interface was too complicated or adding lists was troubled. And so we decided: NIX Solutions will release a mobile application appealing to users.
There were 2 versions in the beginning–free and paid. The free one contained ads, and the paid one didn't. That was the only difference. The guys from Apple didn't approve the application at first, but after everything controversial was eliminated, users could enjoy the app's features in full.
Features That Makes You Travel Smooth
Take all you'll need on a trip with uPackingList app. Your phone or tablet is with you at all times, so you can add items to the list on your way to work/home/party/etc–whenever a thought crossed your mind. Just a couple of taps and it's there.
So what do you get with uPackingList?
A fast check of the items with the user-friendly interface.
Various locations–various lists. Create as many of them as you want.
Think of the thing you missed on the last trip. Check if it's already in the catalog with over 300 items. If not–send a hint to us.
Update the lists with one tap. That's all you need to to add or remove the item.
Keep your partner or team informed–share lists via e-mail.
Make them look as you like with your personal icons. Yes, they can be changed.
Use different background teams for different moods.
See how much is left to pack in percentage.
Have enjoyed the trip? Use the list you made for it to plan the next one.
Every new version gets additional features, so uPackingList has changed in 4 years. Now there are much more differences between paid and free versions. The full version enables you to:
Create lists from templates.
Add quantity and note to each item.
Add photo/picture for any item.
Change categories icons.
Change background (business, ocean, tourism).
Similarly, you may change the Order of Items and Categories Manually.
Use the shopping list (Mark of shopping should be set in the item details):

edit items in the Shopping list
add categories to the purchase list
send purchase list via email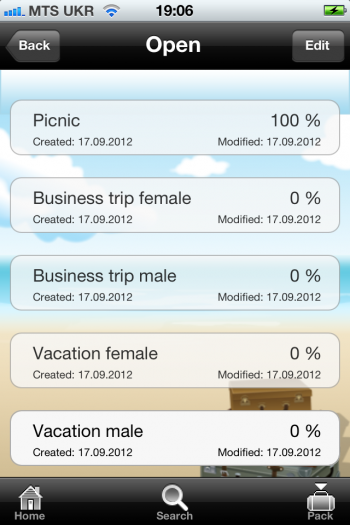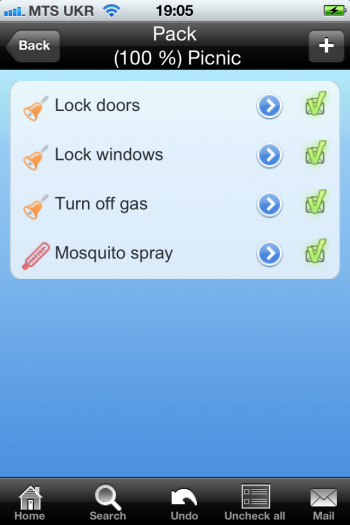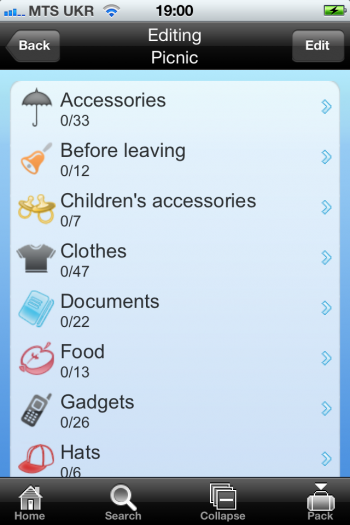 iOS Application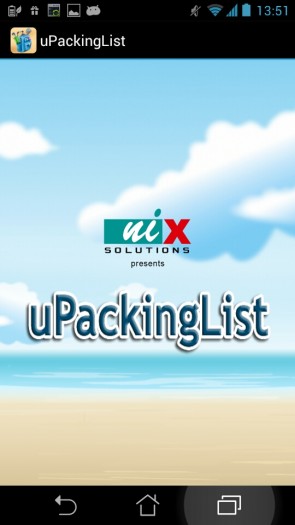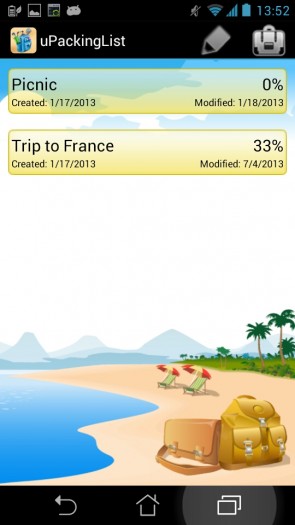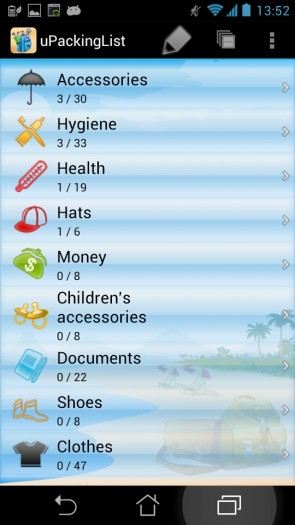 Android Application
uPackingList on Top
uPackingList app is so helpful that many users put it on their top list for packing for different occasions:
Top 5 Free Apps in the "Travel List (Party)" section on Appstore
Top 5 Best Holiday Planner Apple iPhone Apps
uPackingList is in the 7 Best iPhone Apps for Picnics
It's is one of the 4 Trip Packing Apps that Save Your Money
Top 8 Travel Apps for iPad
The application became popular among iPhone users and we released a version for Android and Bada. Their features differ little from the iPhone ones. And right now we are working on Windows Desktop and Windows 8 versions.
The Cloud feature is one of the upcoming news. For now, it's possible to export/import lists via Bluetooth and iTunes, but our users will enjoy the synchronization feature in a while.
Above all, women love this app. They take care of the house, family, and children, and of course themselves. No wonder they make most of the users.
People's needs and convenience is the motto of all our developments, as we always think about users and their needs. 4 years ago there were not that many apps for packing and we decided to make a perfect helper while going on holiday, business trip or any traveling. The app evolved and additional features appeared while uPackingList grew. The users helped us to make it much better by sending their suggestions and reviews.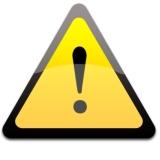 Get promo codes for the paid version of the app by retweeting the post with #uPackingList
Install to try the app. Ads-free! Adjust the app as you wish with the paid version.