Location: Eastern Europe
Our Locations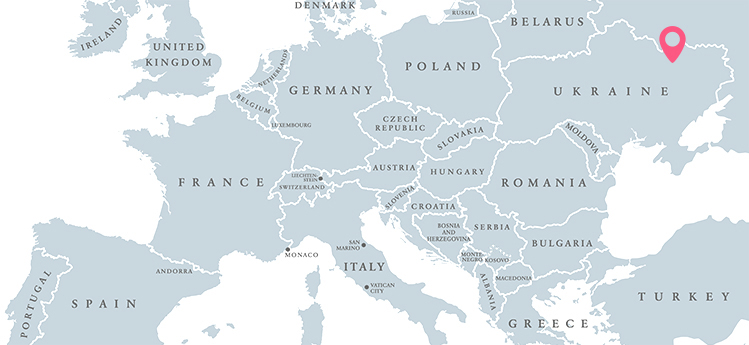 Our development centers are situated in Kharkiv (Ukraine). The total office area exceeds 100,000-sq ft, and is equipped with 2000+ development workstations. Our infrastructure enables us to carry out projects of any size or complexity, either completely in-house or at the client's site. Our geographical location provides us with a number of unique advantages:
Highly skilled IT community. Kharkiv is one of the major centers of education and science not just during the former USSR but today as well. According to American University:


The city of Kharkiv is home to a number of good technical universities; some even refer to the city as the Silicon Valley of Eastern Europe. In Soviet times, Kharkiv was a major center of education and technology… The area's computer specialists, however, were some of the first to work for Western clients… It is home to about 20 state high education institutions and 10 private ones with a combined enrollment of over 100,000 students

A number of technical institutions educate thousands to become experts in the natural sciences, military, aviation, space, and information technologies. Local IT specialists master all technical skills required for new software development and migration from the obsolete platforms.

Fundamental education. Pursuing quality higher education is the country's honored tradition since the 19th century. As a rule, graduates from Ukrainian universities possess high skills in software engineering, software development lifecycle, system analysis, discrete and computational mathematics, artificial intelligence and other Computer Science domains. Many engineers also come to IT from applied mathematics and physics. This explains why Ukrainian IT people demonstrate excellent results when solving complex programming problems that require creative approach, advanced logic thinking and expertise in adjunct disciplines. They are good in project management, research and development of new technologies, business process analysis, system architecture design, and quality assurance.
Readiness for complicated projects. The previous Soviet system was famous for its education and implementation of large-scale projects, especially in the military and space arenas. The Ukrainian IT industry inherited these traditions and combined them with up-to-date Western achievements in IT process engineering.
Common culture and no language barrier. In modern Ukraine, you will hardly face any problem or misunderstanding caused by cultural or language differences.


Geography and centuries long tradition place it[Ukraine] firmly in Europe. Today's young and middle aged managers and specialists who work in hi-tech companies have the same or higher levels of education, English language skills and motivation as their European colleagues.

Time zone and accessibility. Ukraine (in particular, its capital city of Kyiv) is approximately 2 to 2.5 hours from the major Western European capitals. Therefore, our business hours are very close to theirs and allows for continuous communication. Ukraine is 5-7 hours ahead of the USA's East Coast and 10 hours ahead of its West Coast. This allows for overlapping work schedules and online or phone communications. That way, the work is handed off at the end of the day and ready for review and acceptance at the beginning of the next US business day. "ОK, this feature will be ready before you get to the office tomorrow" is a very common message between Kharkiv and US project managers. If clients are interested in visiting our office in order to discuss potential projects or to collaborate during the project cycle, they are able to do so with ease. Air travel to and from Kyiv within Europe is frequent; flights arrive at Kyiv almost daily. Austrian Airlines has regular flights from Vienna directly to Kharkiv. This flight takes only 1.5 hour. Since 2005, a travel visa is not required for US and Western Europe residents.
All of these factors open remarkable opportunities of doing business with us. Ukraine and Kharkiv, in particular, should be considered as the most viable candidate for IT offshoring. According to the latest international research, there has been an exponential growth in Ukrainian IT export since 2000. Being one of the IT outsourcing leaders, NIX Ltd. has made a significant contribution to this process.
Postal Address
NIX Ltd.
2 Karazina Str.,
61002, Kharkiv, Ukraine