How to Deal With Outsourcing: Building a Better Business
12 January 2015
Outsourcing offers many benefits for entrepreneurs. And how to make this experience pleasant? Here is a set of questions that helps to figure out who's the most suitable vendor for your project.
The Outcome
Define and describe what you want to get
Set the metrics
Interview a prospective provider
Finding the Right Provider
Should I choose a company or a freelancer?
Estimate the volume of the work and the budget you have and those would give you the clue.
The services of a company will cost more because they have to maintain more complex business processes than an individual freelancer does. These are the same processes that let your project run as smoothly as possible. Teams usually handle enormous projects.
An individual freelancer would be a better choice in case:
You have a team and lack only one expert
Your expertise lets you communicate on technical issues
You are tight on a budget
If you can't make up your mind, ask for a quote from a company and freelancer, communicate and see which one you are more comfortable as a partner for your project.
How do I check if the person is able to deliver?
First, study the available information: job history, feedback, reviews, and references. Not enough? Ask for a paid pilot project. It can last from 1 to 4 weeks depending on the volume of the entire project. The outcome should be a small finished product or prototype. This way, you'll be able to determine if you enjoy working with the company or the person and see the actual results of their work.
The deal can be canceled with no harm only during the first few weeks. Use this time to figure out everything that is important for you and your business.
How do I protect my product idea and private information?
Secure your intellectual property with an NDA right after you get the first reply.
When project details are clarified and you're ready to start, you and the provider will sign the agreement. It may cover the following:
Protection of personal data and confidentiality
Use, Reproduction, and Intellectual property rights to the programs
Fees
Warranties and liability
Relationship of the parties
Disputes
If you need a white-label product, ask the provider if they provide this type of work.
How do I track work on my product/task?
All information about the performed actions and the results should be available in reports and/or in the tracking system that you and the provider share. It's better when you have a common platform where materials and important communication are stored. This way is more efficient than just emails pertinent as information can be shared with team members from both sides.
Who owns the code?
You do. As the customer, you have exclusive rights to the code.
The exception is the reused code that was created before your project started. For instance, if developers used their framework, that is not the part of the product you own but everything else is your property.
What are the Guarantees and maintenance period? How do I update the product?
You should allocate time to test the product and ask for fixes if required. The time for testing depends on the project scale and can be from 1 week up to 3 months. Fixes during this period are free of charge.
If it is an addition or change to the project, it would be considered extra work (and extra payment) even when it's within the guarantee period.
Over time, your product will require an update for the recent version of iOS or browser. Here is when a professional web development company works better than a freelancer: in 99% of the cases, they will help you with the update on the contract end date.
Time and Money
How much does it cost?
The exact cost of a brand new and unique product is like a unicorn–it's a beautiful creature that doesn't exist in the real world. Fortunately, there is a method that works for almost every case. Estimates are available for every stage in the project. It's not the exact number that will appear on the bill but a more accurate amount for the next stage is given when the previous one is completed. This is the way you control the budget.
Tip: Having clear and detailed guidelines on what you have and what you need will cause an accurate and realistic estimate.
How much do I save outsourcing? are there hidden expenses (time and money)?
You save on payroll taxes and health insurance compared to hiring an in-house employee (plus 50-70% on the flat fee if you hire from overseas).
It required more time during the early stages to establish communication. Don't neglect this opportunity to get acquainted with your provider via on-site visit, call, or video chat. Even if the provider is far away, it's possible to have an online meeting. Enormous projects mean enormous investments and companies are often eager to meet with you in person.
It's totally worth investing your time, in the beginning, to save you from micromanagement later.
Should I assign more developers to deliver the product faster?
The project efficiency for one developer is 100%. For two developers, it's 180%, but the efficiency of three developers is only 240%. A team of three developers spends 60% of the time communicating and understanding the code, especially if their work is tightly connected. If you're looking for fast delivery, discuss with the provider how it can be achieved.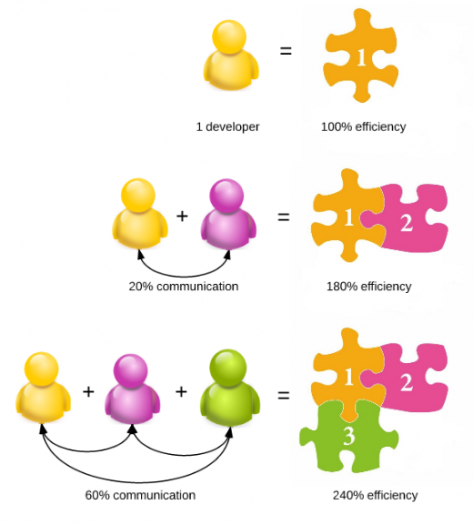 Communication
What about time and language differences?
Having different time zones is actually a benefit. You can set the task in the evening and get it done by morning or noon the next day. Often, there are enough overlapping work hours with the foreign team to have an online meeting when required.
If you know the project would go better in person, then look for a local provider or one you can organize a meeting with. Long-distance outsourcing does not work for every project.
Who is my contact person?
The contact person is usually the Project Manager (PM) of your team. They coordinate everything and will keep you regularly updated on the progress of the project.
Make sure to have additional contacts in case your PM is silent for over 1 business day. When dealing with a company, have the contact information of the sales manager and the supervising manager of the project.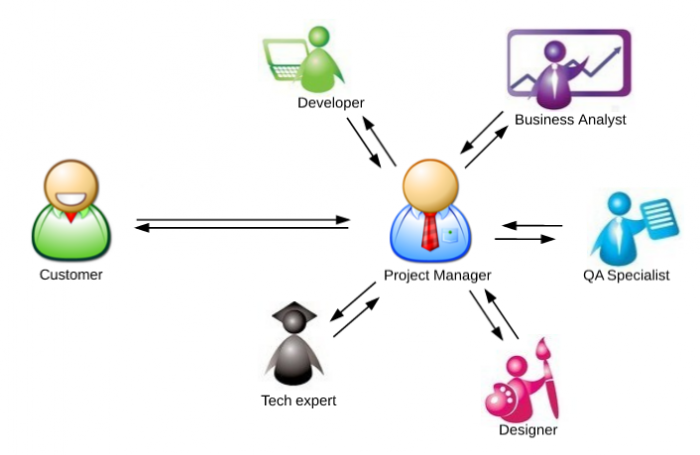 Conclusion
Outsourcing offers many benefits and is certainly a viable tool in building a better business. As long as you are clear about your requirements and expectations, you can follow the steps above and you will be on your way to partnering with the most suitable vendor for your project.