What's It Like Working with Ukrainian Developers?
15 August 2018
Nowadays, Ukraine is considered one of the best countries to work from. For the last few years Ukraine has shown relatively modest economic growth. This infers, for now anyway, that outsourcing prices are lower than compared to other countries. It's a great opportunity for everyone involved, because a lot of talented people have great jobs, well-deserved salaries and many fascinating opportunities for professional growth in the Ukrainian software market.  Ukrainian developers are in great demand internationally and have a wide range of inventive skills. This is confirmed by facts on the websites of local IT firms and professional associations. Currently, some of the IT companies in Ukraine have awesome experience in cooperation with the different world-known giants as Microsoft, IBM, Apple, Samsung, etc. If you have doubts about hiring Ukrainian talents, in this article, we have prepared several arguments for why you should.
Convenient time zone
The Ukrainian time zone is GMT+2. That means if a client is in Europe, business hours are practically the same as the working hours in Ukraine.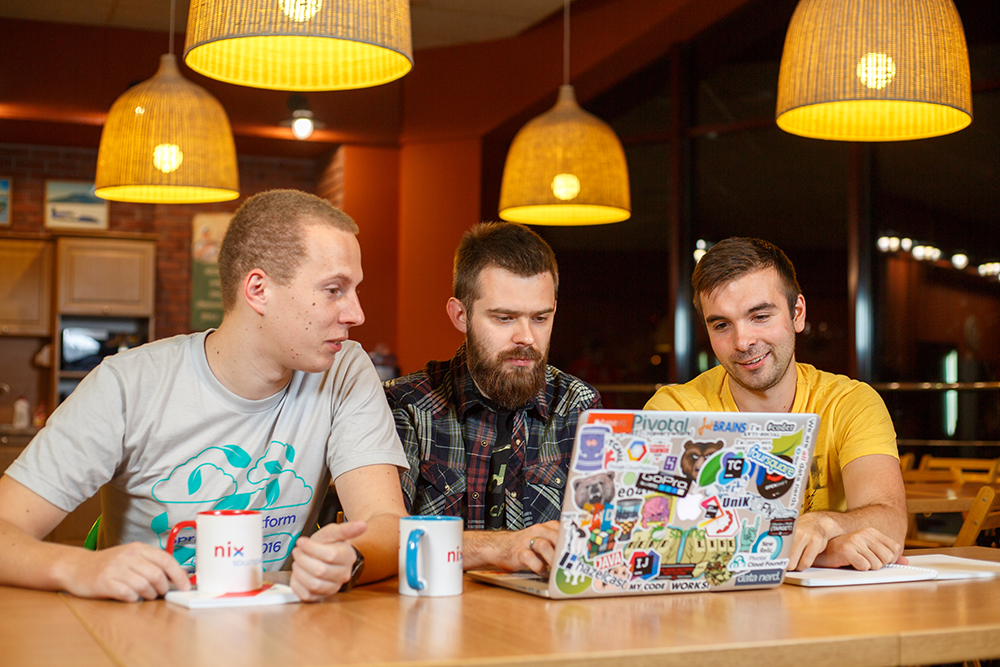 Work ethic
Ukrainians are known as hardworking professionals. These people are considered totally savvy especially when the pressure is on to find ways to complete a task before a deadline.  Ukrainian developers are highly motivated to advance and grow as professionals. This is the main reason the average senior software developer is 26-29 years old. In addition, in Ukraine. programmers are used to detailed and clear requirements to provide a better solution for any problem.
Fluency in English
Most of the IT specialists know English on an advanced level.  Many companies have a lot of fluent English speakers, several of whom work in Project Management, Sales Management, and other departments where it's a must to communicate with customers.
Ukrainian software development professionals are fluent in English too, since higher education in Ukraine is strong, and studying English is a must at universities.
Reasonable prices with the excellent quality
For outsourcing, Ukraine is not the cheapest option. However, it's does have one of the best value-for-money ratios. When you strive to hire skilled, smart software development professionals who meet all your requirements, Ukraine is a great choice. All you need is to find a great, reliable software provider. If you don't know where you can "catch" one, search for them here – clutch.co.
Strong higher education
Most Ukrainian engineers have higher education degrees, and the popular areas are math, physics, and engineering. Education in Ukraine is famous for providing a solid skills relying on the best US experience and traditions. Today, new approaches have been added to these traditions to make an awesome combination for future specialists.
Ukraine has a variety of outsourcing companies and big IT market
Ukraine is the home for many IT companies and startups. It's the perfect foundation for attracting businesses. Many local startups have reached the international level, e.g. DepositPhotos, PetCube, CleanMyMac, Grammarly, and Readdle. Some of the top IT rankings in outsourcing have named Ukraine the best place to destinate your business, including Colliers International, Bloomberg, PwC, Outsourcing Journal, and CEEOA.
Wrapping up
Ukraine stands out as the perfect destination for software development due to its Western-oriented business values. As we mentioned above, Ukrainian developers are skilled, have a solid level of English, are in a convenient time zone and have other great advantages. Ukraine shows a unique blend of IT talent, growing startups activity, R&D effort, and good value for money. Ukrainian IT outsourcing companies offer you the best and easiest way to turn your dreams into reality.