What is the Value of UI/UX Development in Business Growth
26 October 2020
How do consumers interact with your mobile app? Is your website quick and efficient? In an ideal scenario, you want your customers to have a delightful experience when using your product or website.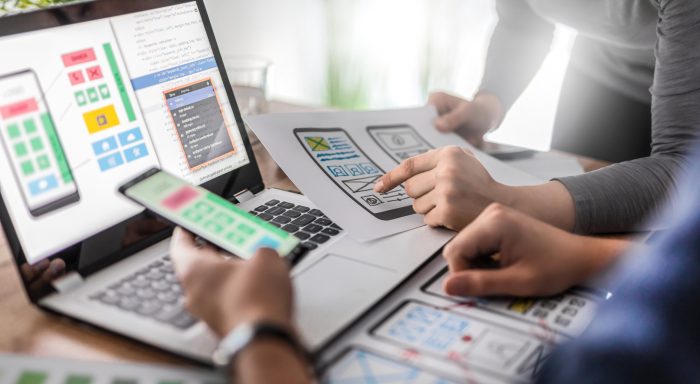 Why? Because good user experience pays! And according to a recent Forrester study, every $1 invested in user experience design brings $100 – a return on investment of 100%. Not even the best marketing strategies can get you such a ROI. In fact, email marketing, which is hailed as one of the best marketing tactics, only generates about $38 for every $1 spent.
The report shows that a well-designed user interface has the potential to raise your conversion rate by a massive 200%. UX design, meanwhile, can boost your conversion rate by 400%.
This article will decode the concept of UI/ UX and examine more closely why a growing number of businesses are mostly focusing on their development to generate more revenue.
A Definition: What's UI/UX design?
UI and UX design both address the design of user experience elements. UX (short for user experience) design is the process of improving the overall experience of the user when they interact with your software application or website. The goal of UX is to provide maximum customer satisfaction. A great UX design produces a software product that is easy-to-use, intuitive, and inviting.
UI (short for user interface) design, meanwhile, is the process of improving the presentation and interactivity of the software application or product. It focuses on navigation, appearances, and how the product interacts with users. UI also addresses issues such as responsiveness, efficiency, and accessibility. Other vital hallmarks of a hassle-free UI design include consistent layout and fitting graphics design.
What is Involved in UI/UX Design?
UI/UX design entails five key components including;
 Information architecture, 

Interaction design, 

Usability, 

Wireframing,

Visual design. 
Here is what you need to know about each of these elements;
Information architecture

: Simply known as IA, information architecture is all about designing the website or application's information structure to satisfy the business' needs. The primary purpose of AI is to provide users with easy navigation irrespective of the browser choice.

Interaction design

: This element of UI/UX design is the process of conceptualizing the product's design and how users will interact with it. It involves brainstorming and designing/selecting colors, aesthetics, font, images, sound, motion, graphics, and space, among others. How can you use these elements to maximize user interaction and experience? That is the question interaction design seeks to answer.

Usability design

: Usability comes from the word "usable," derived from "use." It is all about ease of use. A complex application or website would not appeal to many folks. If users feel the product is complicated, they will abandon it, sometimes never to return. Usability design aims at delivering products that are simple to understand and easy to use.

Wireframing

: This is the process of creating a sample of the application (or website) for purposes of testing the product's features pending the actual launch. Some of the areas of focus during wireframe tests include functionality and usability. Does the app function? If so, does it serve the intended purpose?

Visual design

: Finally, visual design seeks to improve a product's aesthetic appeal and usability with suitable images, typography, layout, and color. It involves selecting the right elements, depending on the area of the application/website, and placing them carefully to create interfaces that optimize user experience and drive conversions.
Major Benefits of UI/UX Design for Digital Businesses
As we have seen, UI/UX design can be incredibly profitable for businesses if it is implemented and executed well. Not only does it yield good profits, but it also shifts your focus from being business-centric to customer-centric.
Here are key pointers on why UI/UX is essential.
Great user experience and user interface design make you stand out. Whether in the various app stores or search engine result pages, excellent UI/UX design makes people notice your products. That first impression is very important. It can help you get plenty of traffic. Once the visitors are on your app/website, the frictionless UI/UX design will also keep them browsing for longer. Longer stay times are directly proportional to increased conversions.
An effective user interface and user experience design are also critical in getting repeat sales. If customers feel that your website is easy to use and highly personalized to meet their needs, they will definitely come back. Needless to say, repeat sales are some of the most profitable. As you might have heard elsewhere, it costs 3.5X more to win a new customer.
Branding comes with several key benefits. It makes it easier for customers to recognize your business. Brand recognition can earn you traffic for a very long time. Branding also boosts business credibility. As soon as clients see your brand colors and logos, they are instantly put at ease. This can breed customer loyalty, resulting in repeat sales over a long period. Great UI/UX design is a critical component of digital branding.
Enhance Client-centric Approach
A satisfied customer is not only a loyal customer but also your best advocate. Everywhere they go, they will not forget to vouch for your business and products. Finally, a satisfied customer can be a vital source of useful feedback. If they feel you can do better in a certain area, they will let you know about it immediately. Great UI/UX design goes a long way in achieving that satisfaction.
About NIX Solutions
NIX Solutions is a global leader in customized business solutions. We develop and source innovative technologies to create transformative experiences to help set businesses apart and impact both clients and users. Contact us today to get access to a dedicated team of customer-centric UI/UX designers who create remarkably intuitive products that reinforce your brand, accelerate adoption, and bring sustainable growth.