Pokémon Go – How To Catch All Benefits From AR Technology
25 July 2016
Pokémon Go is a game for smartphones with elements of Augmented Reality. It has gotten over 15 million downloads in just a few days, earns over $1.5 million every day, and according to some open statistics is already more popular than Instagram, Twitter, and Tinder.
If you own a local business, you would be lucky to have a virtual PokeStop pot at your office, which is set randomly by game mapping software. Gamers use them to find new creatures, bonuses, or charge their smartphones, of course, if you provided such a facility.
But how can simple local marketers or other local businesses earn a profit from this trend?
1. Download the game and browse the map
Perhaps, you will find your office mapped by Niantic (the game developer) as a place where virtual creatures gather, or where special bonuses appear at time intervals. In this scenario, you might put up a physical sign with a special offer to catch a rare monster while visiting your place.
By the way, Yelp has already added a PokeStop filter on its maps (on the site and on the mobile app), allowing users to filter their business search based on the location of PokeStop.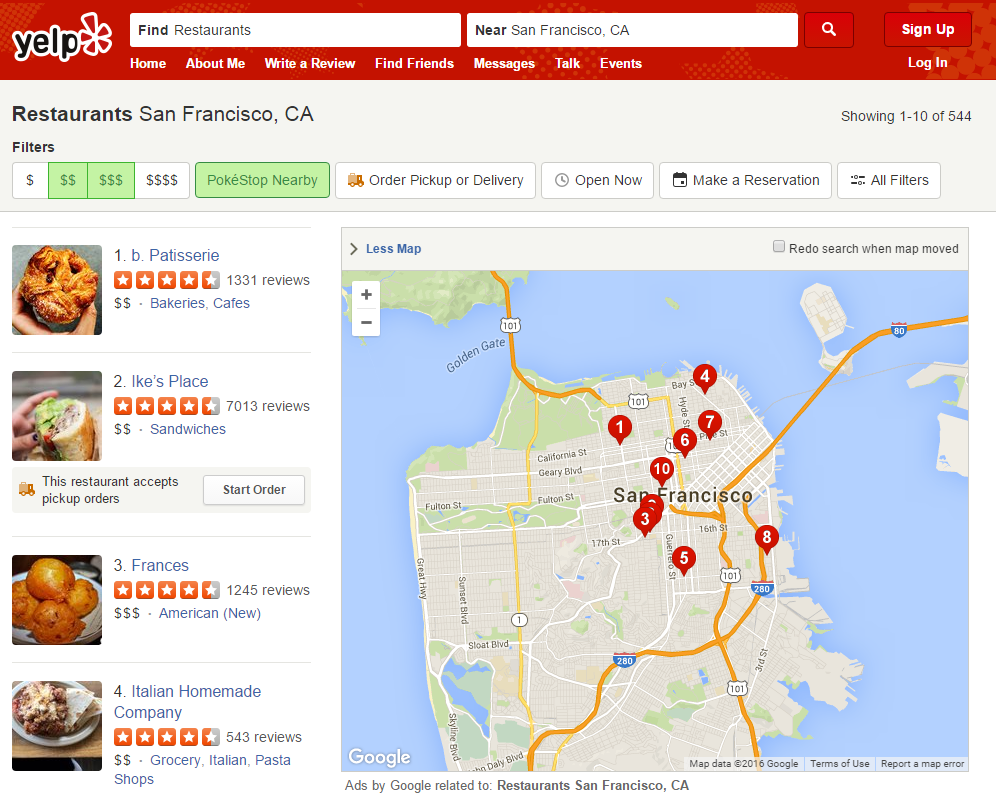 2. Buy and set some lures
Of course, you can buy Pokémon Go currency Pokécoins for real money, which can be used as gaming bonuses and lures. Omitting the calculations, if you have an eight-hour working day, you can get a continuous flow of virtual creatures in your office, for $100 over 10 days.
Where does the wind blow?
Briefly looking at the facts, we see:
The extraordinary public interest in the Pokémon Go;
The early success stories from those who earned a profit from its presence in Pokémon Go virtual reality;
A great desire of national brands to attract players to their offices.
The next step after this should be the development of an advertising platform by Nintendo and Niantic that would allow entrepreneurs to manage their own PokeStops, Pokémon gyms, or other in-game items that will attract more customers.
Niantic was founded as a Google startup, so we might see some Google AdWords platform in-game integrations in the future. The previous game by Niantic "Ingress" also contains AR elements and used to have some ads of big enterprises and companies.
These questions have never been raised before in advertising, but at the time when AR games are just starting to appear, we are around the corner of new inventions in the industry. At the moment, Pokémon Go has got no API, analytics, or any other tool that can help you measure the CTR of the Lure module, for example.
Surely, these tools will appear very soon, but for now, we are to calculate the ROI, conversion, and Lure analytics for Pokémon Go on our own and think about the budget we would set for AR ad campaigns soon.
Original post from Didit