NIXs Developers at the PHP Conference 2016 in Berlin
6 July 2016
NIX Solutions team visited International PHP Conference 2016 in Berlin, Germany this June and shared their experiences there with the IT community.
Berlin is a city of clean streets, bicycles, funny advertising, and shawarma. This city is rich in IT events. Early in June, one of the most advanced PHP conferences took place here—International PHP Conference 2016 by Software & Support Media International Publishing House. NIX Solutions experts could not miss an event of such scale and hurried to Berlin.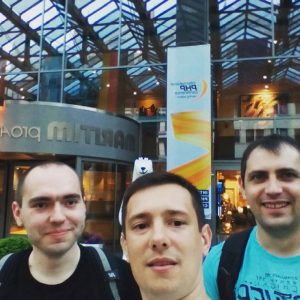 The event was arranged by Sebastian Bergmann—creator of PHPUnit; John Coggeshall—author of PHP books and articles, Paul Bakaus—former Zend engineer from Google; Anas Raza Firdousi from PayPal; and more than 50 speakers who continuously contribute to the development of PHP.
Subjects of reports varied and covered different areas of web development. Besides PHP, there were speeches on web applications architecture, design, front-end development, and DevOps.
The conference is held in Spring and Fall. This year the Spring event was nearly in summer—from May 29th to June 2nd, so the weather was quite warm but sometimes rainy.
On the first day in Berlin, our guys had a perfect walk, tasted KFC, and explored the conference venue. The next day a real rush started: our experts visited 20 lectures and one workshop in four days; during the breaks, they spoke with lecturers and other participants from different countries: Britain, Cyprus, Spain, and Germany.
The chief guest was Sebastian Bergman with his report on PHP7 and workshops on the history of PHP. Nevertheless, almost all reports were very interesting and the speakers were memorable.
André Morys with his report on «Digital Transformation my Ass» impressed our developers, and helped us to look at the application development a bit differently—to meet user needs, their experience, and expectations. Taking a sample of the e-commerce sites, he talked about how today's applications can scare away buyers, or, conversely, how to engage, encourage, and keep the user happy.
Another report, «Level up your Team» from Stefan Koopmanschap, taught us how to assist each other in a team: how mutual support influences the development of the whole team and each person. "Instead of worrying that we teach a man, and he leaves, better to worry that we won't train—and he will stay,"—says the author.
There was a prominent journalist who called developers "rock stars of our time," who presented a very motivational lecture filled with gifts.
From the technical lectures, it is worth noting an interesting experience of Arne Blankerts on combining Node.js and PHP, as described in the report «Just married: Node.js and PHP»; And also a lecture «Docker in Production» by Robert Lemke, in which he described his experience and recommendations with Docker in production.
In addition, our guys directly spoke with the people who are involved in the development of such technologies like PHP, AngularJS, and PayPal.
One of the strongest messages of the conference was by Sebastian Bergmann: The best way to change something in PHP or anywhere else is not just to say you want to do this, but to prove your point of view, implement it, and offer this implementation to the community. After all, most open-source projects hold on to this initiative.
Our developers spent their last evening in Berlin at a summer cafe on the Spree River, relaxing after four busy days, and discussing what they saw and heard at the conference. The trip opened new horizons, and now our programmers are ready to share their knowledge with the entire team in Kharkiv!