NIX Solutions' experts at Architect's Master Class
11 August 2017
After an inspiring trip of our .Net team to Dev Intersection in Las Vegas we decided to look for new opportunities for upgrading our skills and getting inspired. Taking part in iDesign Architect's Master Class seemed a great idea which soon turned into a plan that we began to implement into reality. Here our experts from .Net, Java and PHP teams talk about the Master Class.
So who are all those people that we call Software Architects? It often seems that an architect's responsibilities are not strictly defined. However, he is always needed in different projects and everybody understands very well that good architecture is the key to a project's success and bad architecture (or its lack thereof) will surely cause failure.
Time. Money. Quality. These are three simple words that may describe an architect's duties. To be more specific, these are the three criteria for evaluating any project. Although it all sounds very simple, not everyone manages to close a project within the stipulated time, budget, and with the highest quality. To accomplish this, it's not enough just to work hard on a project—you have to be constantly learning and widening your horizons.
Our .Net team was amazed by the Dev Intersection conference held in Las Vegas, especially by the "Zen of Architecture" workshop conducted by Juwal Lowy. During just one day, he shared his enormous experience of architecture development in successful projects. However, the allotted time was not enough to answer all of the questions and together with a great load of motivation we brought home a great desire of discovering more.
And then this happened—iDesign Architect's Master Class in Europe and five days by the Baltic Sea with Juval Lowy sharing his wisdom. This is the kind of event where one has to book tickets way in advance because architects from all around the world line up to attend it. We were lucky to become participants of this Master Class, for which we would like to say a big thank you to NIX Solutions.
Juval Lowy is a person with inexhaustible potential and amount of knowledge, who is happy to share this information with others. He seems to be calm but while presenting his report he often expressed himself as an unrestrained and sometimes even as a slightly aggressive person. He was often unflattering about inexperienced developers and architects, called them monkeys, raised his voice and made accents with his intonation, and in some situations even shouted and smashed glasses and cups. Firstly, such behavior of a lector evokes different emotions and feelings but all in all you understand that such appeal is very effective for imparting really important details. While presenting reports, Juval maintained two-sided communication, answering and asking questions which definitely warmed up the audience.

Igor, Head of .NET NIX Solutions
Thanks to the fact that our plane was delayed, we arrived in architectures' dormitory in the early morning. Despite this, we only slept for a couple of hours because we were ready to learn.
The majority of conferences seem a vacation: there are usually no difficult topics and lots of time to rest walking the city, but not this time. We were prepared for a very intensive course for 12 hours daily and a very tough working week, during which we learned a series of topics on architecture development and project management:
Architect's role during all of the project
Setting up and managing the process
Service-oriented architecture customization
Project design
Getting to know with  iDesign Method
During five days Juval shared with us his knowledge in architecture development, development process structure, assigning responsibilities, and the use of different technologies in one project. They were exhausting days, because we practiced for 12 hours a day. We had to complete a lot of information on a very tight schedule. After a work day my mind was only about technical and working moments, my head was full of different ideas and plans for the future. I was surrounded by the charming beauty of Stockholm streets, but I had neither time nor strength for walking—I was totally engaged in architectures' affairs.

Igor, Head of .NET NIX Solutions
During this course, we learned lots of interesting facts on technology development history and the industry in general, and many insights, as well as the opinion of one of the most influential person in the field about what the future holds for us and in what direction we need to move to keep up.
At the beginning, Juval had promised to wash our brains and he kept his word! He told us about a variety of problems associated with building a high-quality application architecture. In his reports there were a large number of examples from real life, the benefits of which cannot be underestimated. Some of them were obvious—and boring because of that—but there were many questions that we used to apply to development without thinking whether it is suitable to a certain project or not.  These issues include Agile, refactoring, technical debt, and many other issues that we face in each project, but we do not always think about their rationale use. And of course I was very interested in hearing and seeing examples of successful/and not really architecture, and some recommendations and secrets that I could use in my projects and tasks. The decomposition on the basis of the system's variability presented by the speaker became one of the most exciting discoveries for me. Most of us used to use functional decomposition, which is not actually effective. This was a very interesting and useful journey, which opened my eyes on some technical aspects in our work and will help to get high results.

Igor, Head of .NET NIX Solutions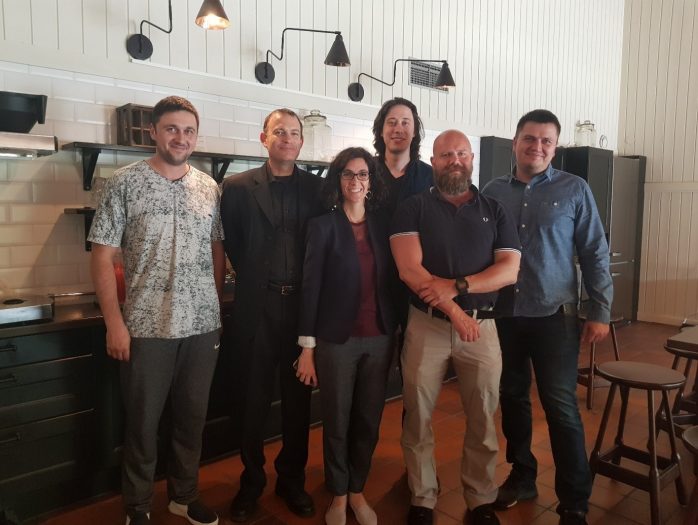 At the end of the course, all of the participants have access to iDesign Alumni, which in itself cannot be overemphasized. This is a group of architects from around the world and they share their opinions and invaluable experience. In a week we learned much more than we could expect, met architects from all over the world, learned a lot of new things, but this is just the beginning, and there is still a lot of work to be done.
Article by Evgen, Senior Tech Lead .NET NIX Solutions