The Impact of Self-Driving Cars on Auto Insurance Industry
6 May 2021
Autonomous vehicles bring significant disruptions to the auto insurance sector. Find out how the industry will evolve to meet the emerging needs of driverless car owners.
In recent years, influencing factors like digitization and sustainability have inspired tremendous strides in the motor industry. Today, the number of electric cars stands at 5.6 million worldwide, up from 2.2 million just two years ago.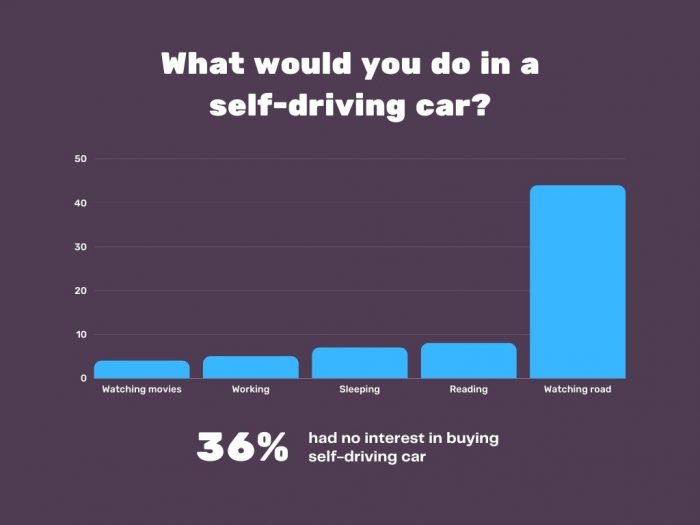 As the electric vehicle continues to make headway toward widespread adoption, innovators are now exploring the next chapter in the "smart car" book. Driverless vehicles had long been concepts left for the movies, but they are gradually becoming a reality. Almost all the major EV automakers are building autonomous cars of some sort. 
For the motor insurance sector, self-driven cars could bring dramatic shake-ups in client base and business models. With human error accounting for 94% of all road accidents today, autonomous vehicles potentially mean a transformative risk reduction for motorists. Will auto insurance still be necessary? Find out below.
The state of vehicle automation today
We typically classify car automation from Level 0 to Level 5, with each subsequent level more autonomous than the previous one. Most vehicles on today's roads are Level 0 and rely entirely on manual control. Some cars offer support systems like emergency braking, but these do not qualify as autonomous driving features. 
Level 1 vehicles offer one automated driving system, such as steering or accelerating. Many new-age cars offer adaptive cruise control, which qualifies as Level 1 automation. Level 2 automation offers advance driver assistance systems (ADAS) to control both driving and accelerating/decelerating but still require a human to make decisions like overtaking.
Tesla's Autopilot feature earns a Level 2 rating because it can control the steering and the throttle using a combination of computer vision, radar, and sensors but cannot make some more high-level decisions, which require AI intervention. 
The jump from Level 2 to Level 3 entails adding several "environmental detection" capabilities to enable autonomous decision-making. The Audi A8, the world's first production Level 3 vehicle, features fully autonomous traffic jam driving.
Both Level 4 and 5 vehicles offer full automation. What sets Level 4 a notch lower is it gives a human the option of taking over if things go wrong. Level 5 automation systems are deemed so reliable that the human-override option is unnecessary. 
Currently, Level 5 automation exists only as concepts in several pockets of the world. Nevertheless, even Levels 2 and 3 are enough to disrupt the auto insurance sector.
What does vehicle automation mean for auto insurance?
Although today's version of self-driving cars does not take the driver completely out of the equation, automating routine tasks like steering wheel movements, accelerating, decelerating, braking, and parking theoretically reduces human error and makes driving safer.
However, as Tesla's flawed autopilot system demonstrated, tech is not infallible. Autonomous vehicles use both hardware and software systems to assess road conditions and react accordingly. The failure of these components can cause a crash.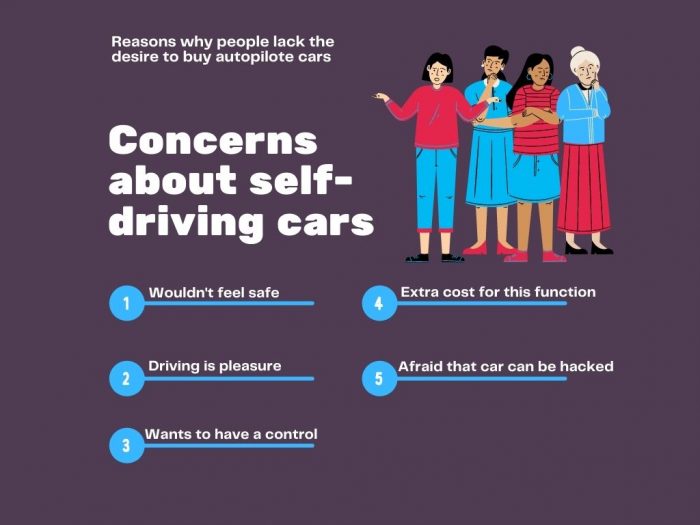 So, if you are wondering whether driverless cars will spell the death of the auto insurance sector, the short answer is no. More likely, it will force the industry to evolve. Below are four possible scenarios that could play out as motor insurance adapts to autonomous vehicles.
Lower insurance rates.

Autonomous vehicles are expected to increase road safety and bring insurance premiums down. So far, some industry players, including Tesla, have argued that insurance premiums for their cars should be lower.

However, this demand attracts some key issues. For starters, it is not definitive that the existing AI technology is more reliable than the average human driver. Moreover, the technology that makes vehicles autonomous is expensive, which means autonomous cars potentially cost more to repair than comparable non-autonomous vehicles. 

Perhaps most notably is the lack of standardization in the autonomous vehicle scene. Vehicles using varying methods to achieve automation all sharing the road with human-driven cars could form a recipe for chaos and even more accidents.

Nonetheless, as driverless car technology moves toward Level 5 automation and more autonomous vehicles get on the road, vehicle accidents and technology costs are bound to decrease significantly. As a result, insurance premiums will drop, and providers will need to change their business models to survive. 

Shifting liabilities.

Because vehicle automation reduces the control a human has over the car, crash liability essentially shifts from the driver to the product. That means car manufacturers would be liable for accidents caused by defective self-driving systems. Moving accident liability from the driver to the carmaker could essentially bring an end to personal liability covers. 

The move from customer to manufacturer liability will probably be what keeps the auto insurance industry afloat. Carmakers would need to cover themselves against revenue loss if a system fault leads to hefty compensations or a major recall. 

Data-informed payouts.

Self-driving cars present unique opportunities and challenges in claim processing. On the one hand, autonomous car technology will make it easier to collect valuable data, such as accident timelines and the cars at fault. On the other, insurance providers will need to analyze this information and invest in new data management systems.

The reliance on technology for claim-support information will also lead to a heavier emphasis on IT systems, and software solutions will likely take over the work of a claims professional. Eventually, determining and issuing payouts could be entirely automated. 

Cyber-security coverage.

Autonomous vehicles rely on digital connectivity to function effectively. Therefore, they form new and enticing targets for cybercriminals. As driverless cars continue to take hold, it won't be long before news of vehicles being hacked hit the airwaves. Cases of a hacker disabling a car until the owner pays ransom will be particularly rampant. 

Owners of driverless cars will be expecting insurance agencies to cover the cybersecurity threat, similar to more familiar subjects like accidents and theft. As a result, future companies will likely include or offer additional coverage options for cybersecurity to customers as part of their auto insurance policy. 
How will autonomous vehicles impact the future of auto insurance?
Up until now, auto insurance has been a massive cash cow for insurance companies. However, it is predicted that revenue from this segment could fall by a whopping 60% by 2040. Self-driving vehicles will undoubtedly play a notable role in this decline. 
As the shift from manual to autonomous cars gradually takes hold, only agile and tech-savvy providers will be left standing in the future. 
At Nix, we are closely monitoring the disruptions that autonomous driving poses to the auto insurance sector to deliver solutions that will get insurance providers ready for the future. Get in touch today to learn more.