AR today: Snapchat, IKEA, Amazon among others
14 April 2021
Augmented Reality is finding new applications every day–and users love the technology. Two-thirds say it helps them make better buying decisions. We look at ways the top brands are leveraging the technology to help you draw insights.  
The number of US Augmented Reality (AR) users has risen steadily over the past decade. In the last three years alone, the number has gone from just under 60 million to slightly over 90 million people. E-Marketer predicts we will surpass 100 million users in 2023.
Worth noting too is that AR has consistently outperformed Virtual Reality (VR) uses for several years. The number of US VR users is currently about 57.4 million, compared to 34.6 million in 2018.
Real-World Applications and Use Cases
The question you'd then ask is–who's leveraging augmented reality? The following are some real-world applications.
AR for Facial Recognition 
AI for facial recognition radically changes how we interact with the world, including Facebook, Apple, and Google, and most obvious Snapchat with their filters. 
It's important to understand the difference between biometric and AR facial recognition from the onset. Unlike biometric facial recognition that attempts to identify a person, AR facial recognition solutions attempt to create better cameras that understand the human face.
AR facial recognition cameras can detect facial features and map augmented reality features over the human face, such as real-time animations, 3D avatars, filters, masks, etc.
AR-infused facial recognition technology is currently used in many industries and applications. As a means for digital advertising, it allows brands and consumers to communicate, allowing potential customers to create a personal experience that's meaningful and memorable.
Meanwhile, video conferencing platforms also use AR facial recognition features to empower video communication and collaboration. 
For instance, contributors can change and adjust their video backgrounds thanks to virtual background solutions. One can even enhance their facial feature to optimize their appearance on video.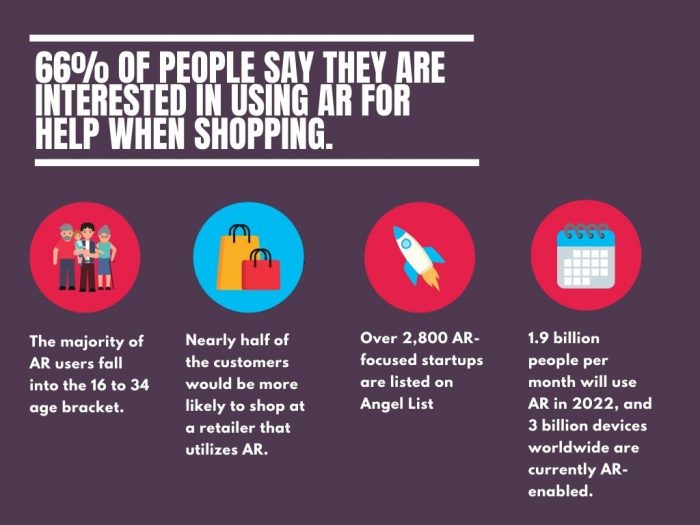 AR Wearables 
Up to now, AR has been available on mobile phones, headsets, and personal computers only. Smartphone AR is ubiquitous, we've seen with the Snapchat and Facebook facial recognition technologies above. 
However, for AI to make its mark truly, there's a need to find applications beyond filtering faces and video backgrounds. 
Headsets are popular too. But they're bulky. Few people enjoy wearing a headset, let alone carry them everywhere. Moreover, VR headsets can be expensive.
That's where wearables come in – think of wearables as portable AR. One of the best products in this area is AR glasses. There are at least four categories of AR glasses. 
But, essentially, these glasses bring valuable information right in front of your eyes to help you make sound decisions. When you're driving, for example, AR glasses can display routes, locations, black spots, and your chats, so you don't have to take your eyes off the wheels.
Apple Glass is one of the first products in this line. The glasses are scheduled for release in the next few years.
AR in Shopping and Retail 
Allowing consumers to shop virtually has been on the cards for some time. Retail giants, including American Apparel, Uniqlo, Lacoste, Sephora, and Khols, have tried it to a degree in the past. 
Virtual retail allows customers to gain a try-before-you-buy experience from home prior to committing their dollars. Though progress has been slow, expect a significant uptick in the number of retailers using AR in the next two years.
For example, IKEA has an app that allows consumers to visualize how furniture and other products might look in their own homes. 
By placing these items against the background of the room (and exact spot) where you intend to place them, you can make a more informed decision on whether that chair or table would genuinely fit.
Amazon has a similar app that allows users to test apparel before committing any money. The AR-powered virtual dressing room app scans your body measurements and assesses your preferences before picking suggestions. 
AR in Events and Planning 
AR is also set to revolutionize in-person and virtual events such as career fairs and sports. For example, the traditional approach in organizing career fairs involves in-person meetings or, more recently, partial e-conference setups with tools such as Zoom. But, we could see a whole new level of 'digital' once AR events arrive.
One of the best examples is the AR-powered Pot Noodle Virtual Career Fair developed by AirCards and GradBay. The actual event was canceled because of COVID-19. 
However, the two teams later combined to create what could be a watershed moment for the events planning industry. The fully immersive fair allowed attendees to walk by their favorite stalls and peruse resources effortlessly by pointing their smartphones at a large, flat, outdoor space.
Augmented reality is also being used in the sports industry by companies such as the 8th wall to enhance marketing through interactive content. AR also allows developers to create virtual holograms of sports celebrities that fans can interact with at home.
AR in Education
Educational institutions were some of the hardest hit by the COVID-19-occasioned social distancing regulations. In many places, all forms of physical learning were suspended. 
However, the internet provided an alternative and, for most institutions, learning has continued despite COVID-19 continuing into 2021.
AR is one of the primary tools many education institutions rely on to improve the learning experience for e-students. AR has the potential to improve student focus on course content while at home. 
Besides, AR also makes home-based learning modes more diverse by expanding visual content for more visual-focused learning. 
A key advantage of AR in this area is that students can inspect models from virtually any angle independently. They can also move around virtual objects and rotate these objects to examine better and understand concepts.
An outstanding example is the Ai – R-Cord app developed by Wikitude to help elementary school students learn concepts using augmented reality experiences.
AR for Entertainment
AR is great for moving fun to the next level. Think about any cool tabletop game. Now imagine all the characters can arise over your table and you even can transform them by putting a spell with special cards. NIX Solutions created an AR tabletop game that makes you hold your breath.
Ready to Jump In?
AR has many other applications in different industries already. In the gaming industry, games like Pokemon Go, Titans of Space, and AR Air Hockey all leverage AR to boost the experience. 
For small and medium-sized businesses hoping to jump in and take advantage of the vast potential of VR, NIX Solutions can help. Contact us today to speak with an expert.