Russian Social Network VK and Promotion Services
24 September 2013
If you are going to conquer the Russian market by promoting your products in the world's largest social network of Facebook, get ready to say goodbye to your money. Why? The answer's easy–Facebook is just not popular in Russia. Yes, the latest statistical researches showed that the world's most popular social network isn't in great favor amongst Russians. They prefer to express themselves in local social networks like Odnoklassniki.ru and Vk.com. Can't believe it? Check this out (Map, Fig. 1).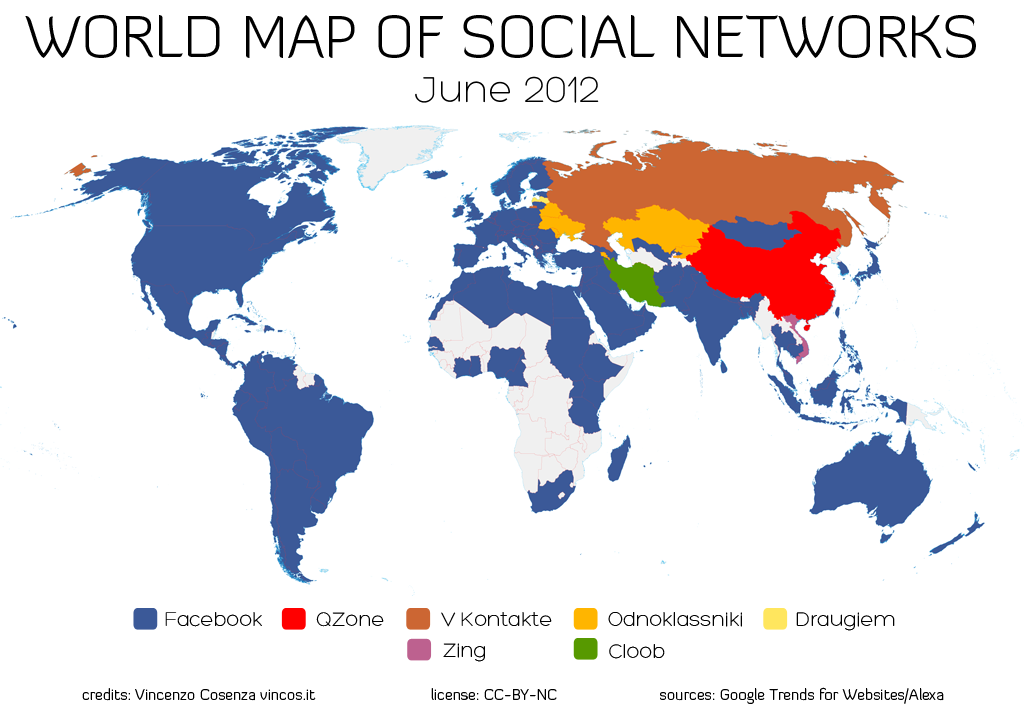 As you can see, the most popular social network in Russia is VK (originally VKontakte, Russian for "in touch"). The second place is taken by OK, another local "giant". And now just imagine the size of the audience you can cover if you promote your business not only on Facebook with its sorry 14 million Russian users but also on OK and VK (Fig. 2).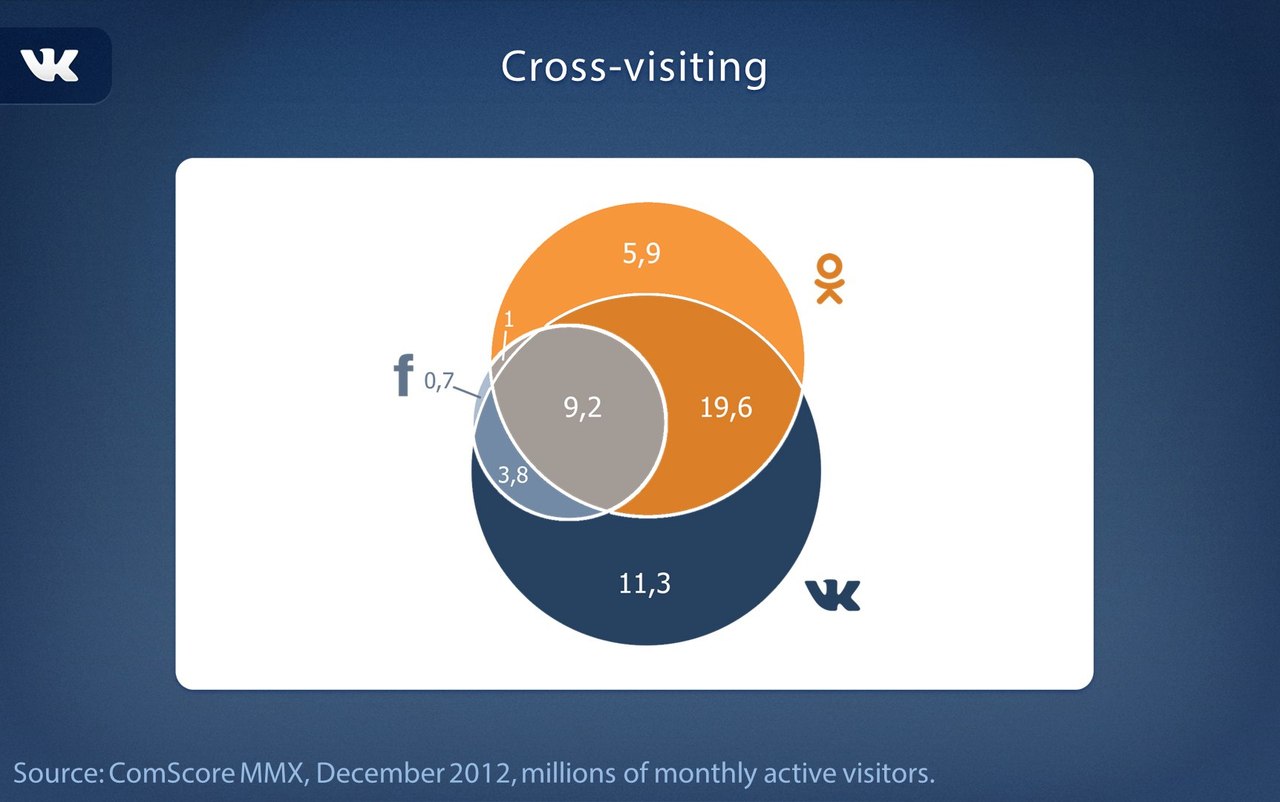 Impressive, isn't it? That is why you need to win the favor of many VK and OK users first and foremost, in order to present your products and services in Russia at their best. These networks are the places where your potential customers spend days and nights. People share news, discuss innovations, give advice, look for goods, take part in all kinds of contests, express their views, listen to music, check out their friends' pics and videos, and so on. There is no better way to gain favor with potential customers but to jump in to the same information stream and draw attention to your product. This is possible thanks to the 2 largest Russian social networks. OK is the topic of the next article. And here are some VK features.
VK (Vkontakte) Social Network Features
You can make a name on VK with the help of 2 tools:
creating and managing public pages is a modern method that gets more and more popular;
creating and managing group pages is an older and more traditional method (if you can say that about SMM).
Both methods are suitable and deserve special attention. Picking one or another method depends only on the purposes you seek and the message you want to deliver to your potential customers.
Public Pages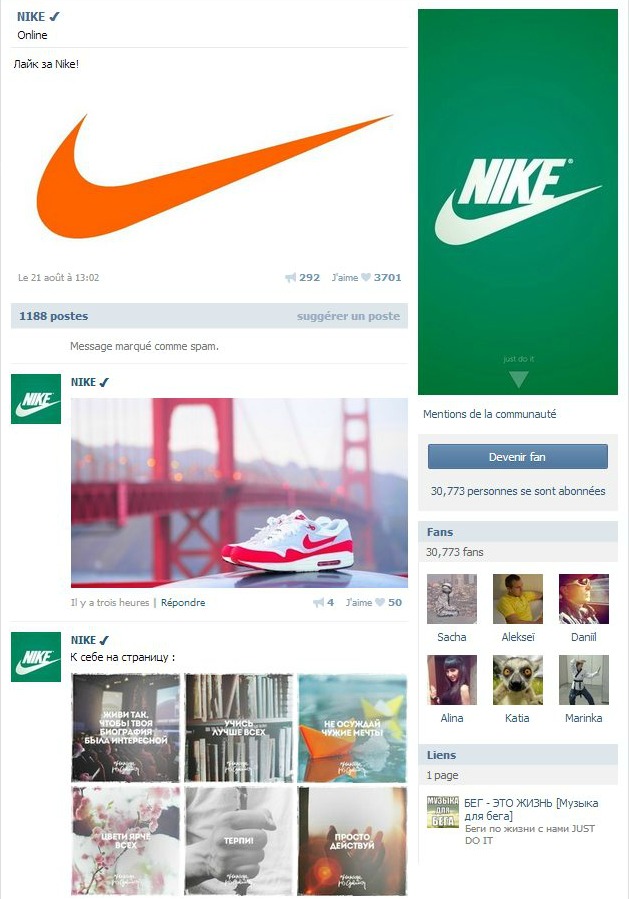 A public page is a page aimed at delivering important information to its followers in a brief and fast way. Now public pages on VK gradually become truly commercial and independent projects and can bring great income to their owners. The one and only secret is nice content: photos, videos, and text. But pay attention to the fact that since there's been appearing an enormous number of public pages lately, the VK audience gets really tired of the continuous information stream. That's why only quite an interesting page with unusually presented goods can draw people's attention.
Another special feature of public pages is that they gradually get transformed into an absolutely new sphere for artistic expression. For example, painting as an art form lost its leading position long ago, but any artist can express his ideas using unusual digital canvas for his masterpieces. The same thing goes with businessmen. The flexibility of any page allows presenting products and services from a different, previously unseen prospect.
Public pages features:
quick publishing of ads and company's news;
presenting new products and services;
possibility to get the brand's official page states.
Potential followers of public pages are people who want quick access to the company's news, recent developments, ads about sales beginnings, special offers, etc.
VK (Vkontakte) Groups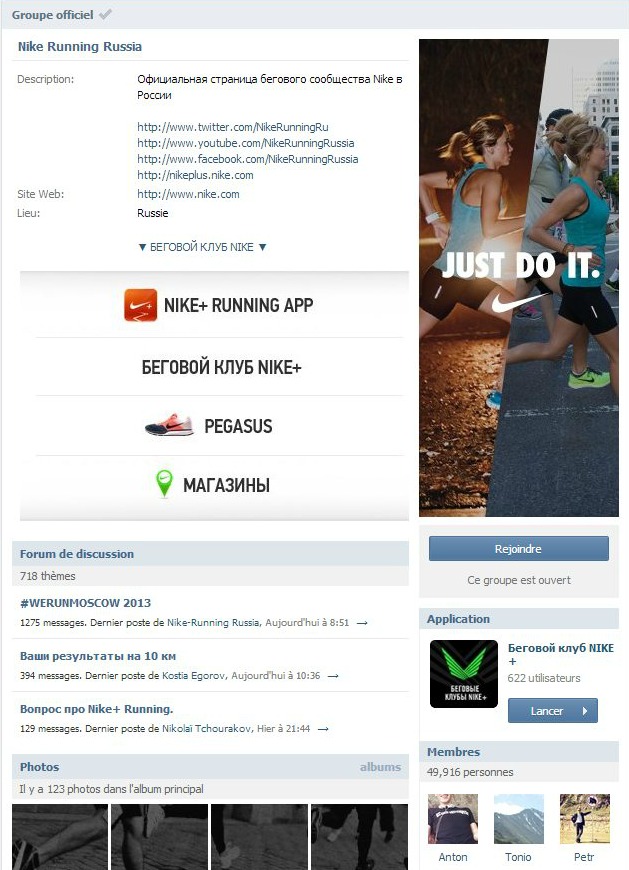 Groups are communities of people with common interests. For example, a company that sells foods decides to make a name on VK social network. This company creates a group that will unite people who like cooking, or sticks to a healthy diet, or vegetarians, in short–everyone who's somehow interested in cooking. Users can discuss new products, express wishes about goods, exchange views over various products, and give each other advice, recommendations, and so on.
Those who choose to create a group, get a chance to present products or services at their best using several features.
Groups features:
possibility to create interactive menus (and show the company's logo once again);
creating polls;
discussing common topics;
exchanging news;
exchanging experience on different goods/services;
fewer official messages but more live communication with existing or potential customers.
Typical groups audience are people with common interests, seeking for live and friendly socializing both with brand representatives and people who think the same way.
In conclusion, what you need to remember? Above all, groups and public pages on VK are a great possibility for any businessman to tell people about your business, products, and services. Second, those are unique communities of people ready to buy your goods or use services. The main thing is to use their wishes and loyalty to one or another brand in the right way.