How to Submit Website to Yandex
19 March 2013
Russian online market is growing with every moment, offering interesting opportunities for online businesses from all over the world. However Russian Internet has its own rules. If you are going to promote your website for the Russian-speaking audience, then absolutely submit it to Yandex–the most widely used search engine in Russia. Of course, it offers its own special tools such as Yandex. Webmaster and Yandex.Metrica.
In this post you'll find out:
How to submit your site to Yandex
Website verification on Yandex.Webmaster
How to share/grant access to Yandex.Webmaster
How to set up Yandex.Metrika on the site
How to grant access to Yandex.Metrica
How do I Submit My Site to Yandex?
There is a special form for adding websites for indexing in this search engine.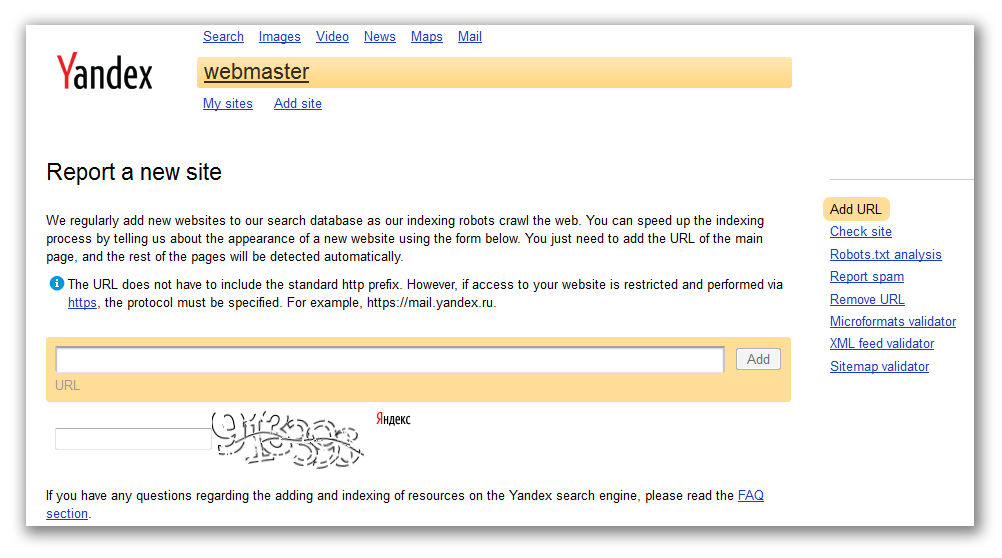 Register the URL of your website's home page to queue it for indexing by Yandex. In case you have already submitted your site, the system will notify you about it. If there are any issues with hosting, just give it some time and try again to add your site later. The message with 'URL forbidden for indexing' means nothing else, but Yandex bans your site.
What Should I Do to Add the Site to Yandex.Webmaster?
The first step for a website promotion will be its optimization for Yandex. Submit the website to Yandex.ru or Yandex.com, depending on the language of the content. When submitting, use Yandex.Webmaster and add your website by simply entering its URL.
Yandex.Webmaster is a tool collecting information about your website's indexing. In other words, it tells Yandex about newly created or deleted pages. The tool adjusts indexing and helps to improve website rankings in search results.
Yandex.Webmaster will answer the following major questions:
What pages have been indexed recently?
What keywords bring visitors to your site?
How to protect the site from viruses?
How to improve the website rankings?
Are there any problems with web resources indexing?
How many backlinks lead to your site?
How high is CY (Cyte index of Yandex)?
In what way to set the region your site is targeted at?
For websites with:
subdomains, it is important to add the major site separately from subdomains.
https://, be sure to use full URLs, do not omit https://.
Website Verification on Yandex.Webmaster
There are 3 methods to verify a website:
Upload a file without content to the root directory of your site. You should name the file according to the naming convention of Yandex (e.g. http://site.com/yandex_XXXXXXXXXXXXXXXX.txt)
Add a meta tag using the template: meta name='yandex-verification' content='XXXXXXXXXXXXXXXX'
Add DNS record using the template: yandex-verification: XXXXXXXXXXXXXXXX
After Yandex.Webmaster has verified your site, it is automatically queued for submission.
How Do I Share/Grant the Access to Yandex.Webmaster?
Sometimes you might come across the necessity to share the access to Webmaster's dashboard with third parties (a colleague, a partner, or your SEO company). There are a few simple moves to grant access:
Select the site on the Webmaster's dashboard.
Choose 'Verification' in the left menu.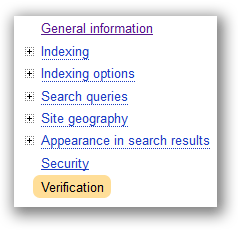 Enter the login of the existing account (without '@yandex.ru') you want to share with.

Check the messages on the dashboard of the shared Webmaster.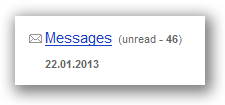 Find a notification about sharing the access.

Press Add button to send the request on adding the website to the dashboard.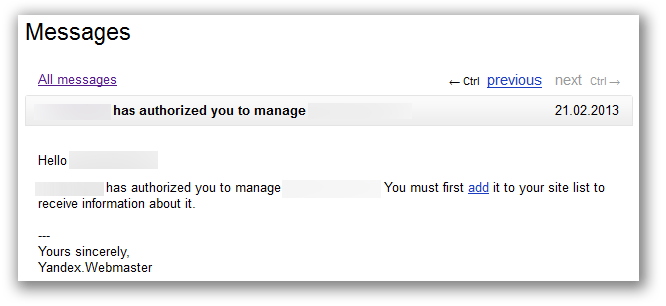 After data verification, access will be granted with the rights of the Administrator.

How do I set up Yandex.Metrika on Site?
Yandex.Metrica is a tool to measure traffic, to analyze visitors' behavior and efficiency of advertising campaigns. Metrica works according to the traditional principle of internet counters: code from your site records every visit, collecting the data about it. If you use Yandex.Metrica, there are certain benefits you can get from Yandex.Direct and Yandex.Market as an advertiser.
See what is happening with the Paid traffic from Yandex.Direct on the site.
Figure out the most effective means of promotion with the tools for analyzing the traffic.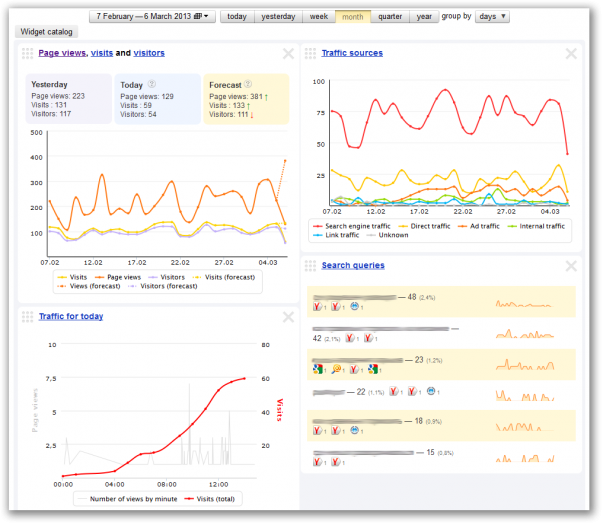 Installation of Yandex.Metrica is a simple procedure.
Registration
The first thing you should do is to get an account on Yandex. Go to the registration page and fill in the form.
Getting a counter code
Once registration is finished, go to the home page of Yandex.Metrica and click the Get counter button. On the next page fill in the fields Name and Site, above all. On the list of Settings tick the features you are interested in.
Counter code installation
The code should be added to all pages you need to track. Copy the counter code and paste it to the HTML code of the page right before the tag. From that moment you can track data on visits, keywords, etc. Check it in the Counters menu or Yandex.Metrica.
How do I grant access to Yandex.Metrica?
If you need to share access to Yandex.Metrika, you just need to:
Click the Access button in the upper menu.
Find your site on the list and click the Edit button in the Actions column.
Press Add User button in the newly opened field.
Enter the login for an existing account in Yandex.Metrica – the one you want to share within the empty field.
Select the access level (for view only or administrator).
Approve by clicking the Save button.
Once you're finished, the access is shared!
As you can see Yandex is equipped with decent tools to make web promotion comfortable and efficient. It creates good competition for Google because some of Yandex's tools work even better than their foreign analogs. Follow the rules of Yandex and your website will be on top!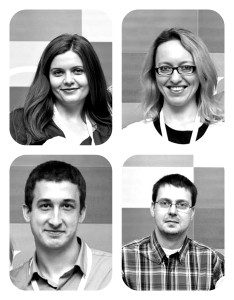 Authors of "How to Submit Site to Yandex"
Post by Roman, part of SEO team, NIX Solutions.
Got a question on promotion in Yandex?
Get help for your project.
Leave a comment below
We'll get in touch soon.
More articles on Russian SEO and promo
Proven Way to Promote Websites in Russia–things that matter for the Russian market
Russian Social Network VK and Services for Promotion–does it work for the business like Facebook and what you need to start with
Russian Social Network Odnoklassniki.ru: Review of Features–the oldest Russian social network.