Advantages and Disadvantages of Low-code Development
22 April 2021
Low-code development is the next big thing in application development. But it also comes with actual risks. Should you jump in or wait?
Flourished during the last 10 years, the low-code development market in another 3 years is going to power over 65% of apps according to Gartner.
Additional forecasts show that low-code revenues could top $187 billion by 2030 from just $10 in 2019, a Compounded Annual Growth Rate (CAGR) of 31%. More than 75% of large enterprises will rely primarily on low-code by 2024.
"But, why such a high growth rate?" one would ask.
Our universe is quickly moving into a fully digital state. Although most entities haven't automated everything yet, that remains their goal. And low-code is a very convenient route to complete digitization.
Four in five large companies say that the ability to build apps outside the realms of IT is one way to speed up digital transformation. Flexibility is another crucial advantage.
Hiring full-time developers is expensive. The low-code development approach allows even people who are not developers to establish valuable software solutions, effectively cutting development costs.
It's the million-dollar question right now. Low-code is the new lingo in the development world. Better still, is it the right time to jump in? The following analysis of this method's pros and cons may help you make a conscious decision.
What is Low-Code Development?
Let's begin by understanding what low-code entails. Low-code or LC is an innovative software development approach where very little coding is required. Indeed, coding may not be necessary at all for some elements.
Platforms that allow low-code development include simple interfaces and drag-and-drop features that don't require knowledge of complex programming languages.
Low-Code Development Pros
If you've used site builders such as Weebly and Wix, you'll understand why low-code application development day by day becomes more and more popular.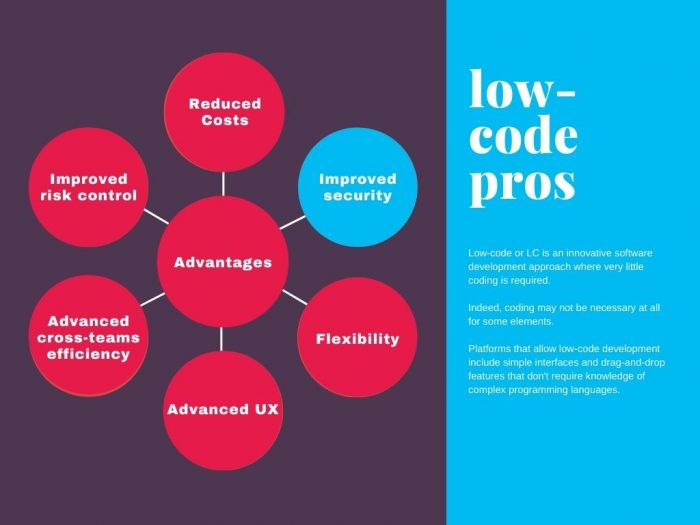 Lower barrier to entry
The first and perhaps biggest incentive is that you no longer need to have coding expertise to build great apps. Till you understand what you want and how the app should work, you're ready. This is unlike in the past when only professional coders with at least a few years' experience could create software.
Greater agility
The key challenge organizations seeking to transform digitally have faced is agility, i.e., the possibility to move rapidly and respond to change. Far too often, companies are caught flat-footed when change is needed–primarily because of the limited number of developers. Low-code developers completely resolve this problem as everyone can now chip in and create the apps and software solutions necessary to adapt without delay.
Expedites development cycles
Traditionally, only highly experienced coders could develop functional applications, it takes weeks and sometimes months to complete projects. The larger projects can take more than half a year to complete due to the limited access to professional developers. Low-code development breaks traditional boundaries in app development, allowing organizations to complete projects in days rather than weeks and weeks rather than months.
Lower maintenance burden
Ask any developer who has worked in the traditional software development setup, and they'll tell you that testing and maintenance are the two most tedious parts of app development. You can take weeks trying to uncover bugs in your code, and maintenance is pretty much a nightmare. Low-code removes the excessive burden by standardizing components. The ready-made "pieces" have fewer bugs to fix and come with much fewer integration challenges.
Productivity gains across teams
Low-code builds bridges between developers and non-developers, such that everyone in the team can take part in finding solutions to app development challenges. Any company can create its own app without the necessity to wait for professional developers. Accounts & finance can also build apps with little help from professional developers. It creates an environment where everything is moving, and everyone is engaged. The senior developers may only chip in for the last touches.
Rapid prototyping
Creating prototypes is another serious issue in the traditional way of software development. The best prototypes can take ages to perfect. Agile methodologies such as merging development and operations to create a single DevOps team can help to a degree. But, to truly liberate organizations from the difficulties of prototyping, you need to do more. Low-code brings in more hands and brains to the development table, thus accelerating prototyping.
It reduces the barrier to entrepreneurship
For solo developers and budding entrepreneurs, low-code platforms couldn't have come at a better time. Unlike in the past where your software ideas had to go through professional coders, a budding entrepreneur can now turn to low-code platforms to kick start their projects. Also, they the expensive IT tools characteristic of professional are no more required. At most, you need a minor subscription fee.
Low-Code Development Cons
Despite the many advantages, low-code isn't without drawbacks. The following are three key challenges the new app development approach poses.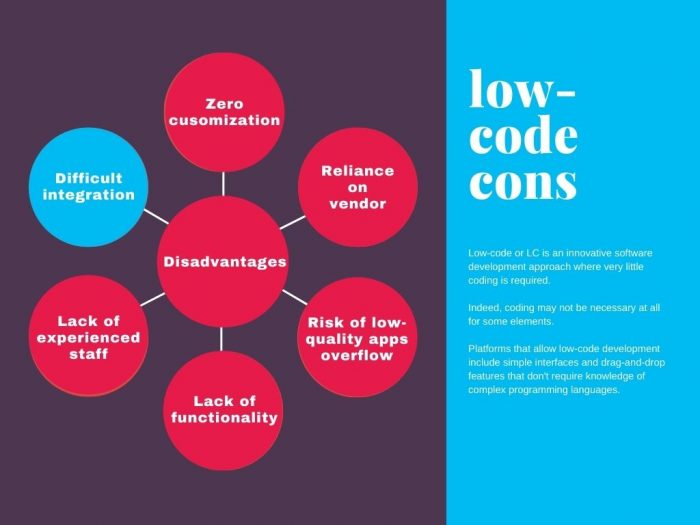 Limited functionality
The first major challenge low-code enthusiasts will run to is limited functionality. For sure, drag-and-drop features can be fun and convenient. However, how many software elements are available in drag-and-drop snippets? More importantly, what happens when you can't find the unique feature you need to complete your app?
Security vulnerabilities
With cyber breaches at an all-time high, even the biggest proponents of low-code will be a little worried. That's because low-code offers neither full control to data nor access to source code. It makes it impossible to determine the potential vulnerabilities in your apps. As a result, for more sensitive apps, organizations may stick with tradition for a while.
Risk of low-quality apps
The likely overflow of low-quality apps still sends shivers down the spine. Think about what we already have on the various app stores–the bogus applications you need to sort through to find what you want. Now, keeping in mind that all those apps are from experienced coders, imagine what could happen when non-coders begin building apps. It's unthinkable, right?
So, Should You Jump In?
We think the answer is yes. Although low-code development comes with a few genuine issues, the benefits far outweigh the potential pitfalls. If you feel the risk is too much, roll out low-code development slowly. Begin with low-level applications while the experienced development team handlers the more complex matters and work your way from there. NIX Solutions can help you learn the ropes.