Reading application uBooks is very popular among users of i-Devices. Its interface and functions let you use all the reading options at maximum. But there is no limit to perfection. Apple users will be able to try out the new improved application version uBooks XL 3.0, which has been developed by taking into account the users' preferences.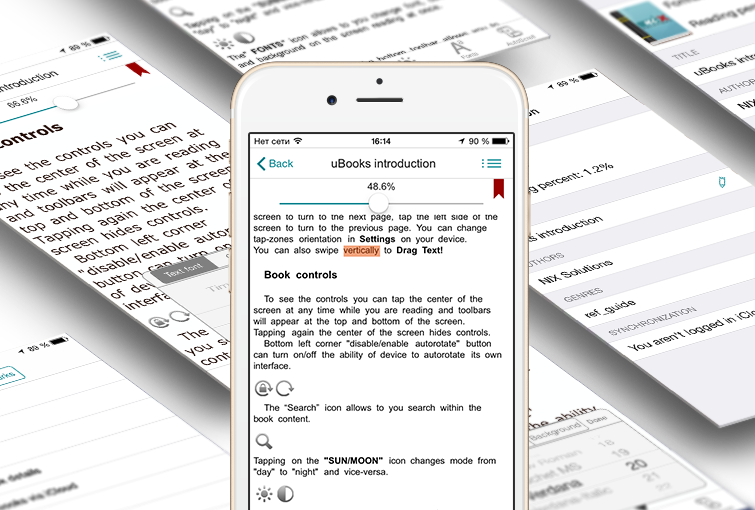 uBooks XL 3.0 now runs on iOS 7.0 or later versions, has minimalistic design and intuitive interface for i-users. The app is multifunctional and easy to use. The new version not only got a number of new functions, but also lost some old ones. The app now misses themes and various ways of page scrolling. There also is no way to turn on/off the status bar any longer. Let's take a closer look at new functions set.
Bookshelf
Bookshelf has changed in several ways. But you still can use 2 display modes: books and documents.

The books display mode contains the following tabs:
The list of all the books, sorted by the opening date;
The list of all the books, sorted in alphabetical order by title;
The list of all the authors;
The list of all the genres;
Settings.
Scroll down to see the search bar.
The documents display mode contains the following tabs:
The list of all the docs, sorted by the opening date;
The list of all the docs, sorted in alphabetical order by title;
PDF documents;
Microsoft Office documents;
Documents in other formats (iWork, Images, RTF, HTML).
Reading Screen
While using uBooks app the user spends most of the time on the reading screen. We've done everything to make your reading comfortable. That is why we have overviewed all the features on this screen and included only the most essential ones in the function set.
Let's go over the changes at the top of the display. There is "Contents" button in the top right corner. It contains the list of chapters and bookmarks of the particular book. Tap on the bookmark sign in the reading mode to add a bookmark. It creates automatically and matches the percentage of pages read by that time. To delete the bookmark switch to the "Bookmarks" screen (swipe from left to right and the "Delete" button will appear).
Tap the book title to look at the book info, where you can find format and percentage of pages read so far, as well.
"Font" button appears on the screen. You can change font family, its size and color, and also change the background right on the reading screen. Press "Done" button to save all the changes . You can also change the font size by zooming using multi-touch gestures (Pinch & Spread).
Books Download
You can still download books using Wi-Fi, Web-browser, FTP client or iTunes. But we have something new for you! Now you can download books using OPDS catalogues (Open Publication Distribution System). You can also add catalogues, change their titles and links.
Keep your progress reading, bookmarks and highlights up-to-date everywhere using iCloud.
Settings
The new version of uBooks has 2 types of settings: major settings (located in device's settings) and inner ones.
The major settings include:
Book animation – turning pages like in printed books . Switch "Book animation" on to use this option.
All justification – to justify the text switch "All justification" on, otherwise it will be aligned left.
Hyphenation – switch "Hyphenation" on to use this option.
To turn pages comfortably adjust Tap Zones. If you are comfortable with using right and left margins to turn pages, choose the vertical Tap Zone. For top and bottom margins use horizontal Tap Zone.
Switching "Reverse" on will cause paging to go vice versa, for example, with horizontal Tap Zone mode on tapping at the top will bring you to the next page, and tapping at the bottom – to the previous one.
For text display settings choose "Settings" inside the app. Inner settings include:
Text display. To read and feel comfortable at any time of the day you can switch from daytime to nighttime mode. You also can adjust the book for yourself and change font type, size and color only for you. Choose background textures, line spacing, horizontal and vertical padding. Enjoy reading your favorite books! We have done our best to improve the product and make sure you are perfectly comfortable while using it.
Text highlighting settings. Set transparency and color, level both for backlight and highlight area.
Language (Russian and English). User-friendly interface is available both in Russian and English from now on. Read books in different languages and use translation functions. Built-in online dictionary can help you to translate various phrases into different languages; you just have to choose right translation settings.
New version of uBooks app is another step to make our products better. Enjoy reading with uBooks XL 3.0!
We are always happy to see your comments and rating on Appstore.
Technical Characteristics of uBooks XL 3.0
| | |
| --- | --- |
| Supported formats | .epub, .txt, .fb2, .fb2 in .zip-archive, .fb2 in .rar-archive |
| Formats supported in Reduced Functionality Mode | .pdf, .rtf, .html, images (.jpg, .png, .bmp), Microsoft Office and iWork documents |
| Books download | Wi-Fi – http server, Wi-Fi – ftp server, Built-in Web Browser, iTunes, OPDS catalogs |
| Compatibility | iPhone, iPod touch and iPad |
| Requirements | iOS 5.0 or later |
| Languages | English, Russian |
| Price | 4,99$ |
Follow our iPhone development team to get the latest app's updates on @NixS_idev.
6 Responses